Panama Papers: Argentina President Macri to go before judge
BBC
Argentine President Mauricio Macri has pledged to assert his innocence when he appears before a federal prosecutor on Friday to explain his finances.
An investigation began on Thursday after it transpired Mr Macri was mentioned in the Panama Papers, leaked files of law firm Mossack Fonseca.
Mr Macri said he would file a judicial "declaration of certainty" so the court can see he is telling the truth.
In a televised address, he vowed to prove he had done nothing wrong.
According to local media reports, the president was listed as director of an offshore company in the Bahamas.
He said he wanted to co-operate fully with any inquiry.
"I know there are some people concerned about these allegations in the Panama Papers that have come out and involve me," he said.
"I want to say one more time that I am very calm, I have complied with the law, I have told the truth and I have nothing to hide."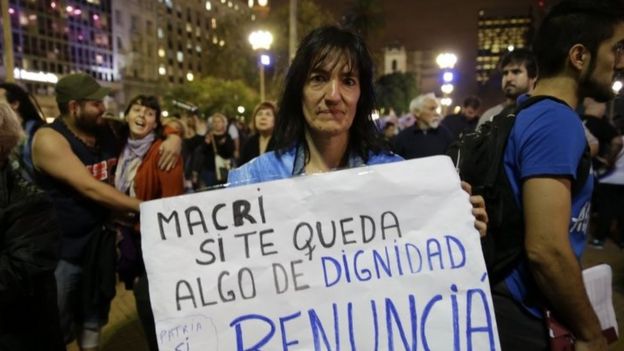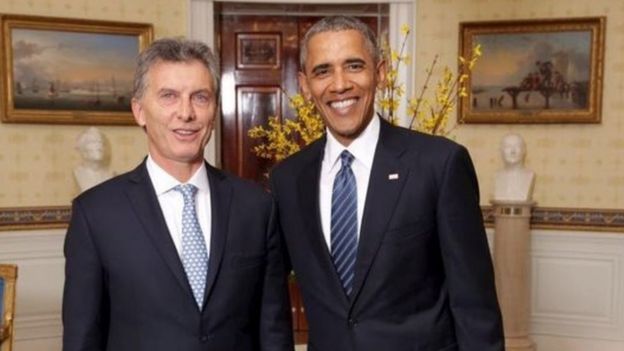 –
Change ahead- Mauricio Macri's vision for Argentina
Argentine 'tornado' Macri woos Obama
Mr Macri said that he had made clear in his initial declaration that he did not have any shares and did not receive any payment for acting as a director of offshore companies.
His office has insisted that he had no shares in the company in question and never received any income from it.
Argentina's national tax authority and anti-corruption office will be asked to provide information to the inquiry.
Prosecutor Federico Delgado said he wanted to determine if Mr Macri had "omitted, with malicious intent" mentioning his reported role in the Bahamas-registered offshore company Fleg Trading.
---
More on the Panama Papers
---
La Nacion, one of the newspapers examining some of the leaked documents, reported that Mr Macri was listed as a director of Fleg Trading from 1998 until 2009.
Mr Macri did not list the company in his 2007 financial declaration, when he became mayor of Buenos Aires, or in his 2015 declaration when he became president.
On Tuesday, Mr Macri's office confirmed that a business group owned by the president's family had set up an offshore company through the law firm at the centre of the Panama Papers scandal.
But his office argued that because he had never received any income from it there had been no reason to mention it in the financial declarations.
Mr Macri campaigned on a promise to combat corruption.
Leaks continue to make waves
Meanwhile, Panama's vice-president and foreign minister, Isabel De Saint Malo, has defended her country, saying it had been unfairly singled out.
Speaking to the BBC, she said: "This publication has information on many jurisdictions, over twenty-one jurisdictions where banks are based – and not one bank is based in Panama…So this has made Panama in a wrong and bad way the focus of attention in the world."
Elsewhere:
UK Prime Minister David Cameron is accused of "hypocrisy" by the opposition Labour Party after he said he had owned shares in an offshore fund set up by his late father
Thailand's Anti-Money Laundering Office says it is investigating 16 people, including current and former politicians and well-known business people, whose names appeared in the papers
Russian President Vladimir Putin denies having any links to offshore accounts, despite not being named directly in the papers, and claimed the leak was part of a US-led plot to weaken Russia
A number of Congo-Brazzaville officials close to the country's president, Denis Sassou Nguesso, are linked to offshore firms trading in Congolese oil, France'sLe Monde reports
---
Panama Papers – tax havens of the rich and powerful exposed
Eleven million documents held by the Panama-based law firm Mossack Fonseca have been passed to German newspaper Sueddeutsche Zeitung, which then shared them with the International Consortium of Investigative Journalists. BBC Panorama and UK newspaper The Guardian are among 107 media organisations in 76 countries which have been analysing the documents. The BBC does not know the identity of the source
They show how the company has helped clients launder money, dodge sanctions and evade tax
Mossack Fonseca says it has operated beyond reproach for 40 years and never been accused or charged with criminal wrongdoing
Tricks of the trade: How assets are hidden and taxes evaded
Panama Papers: Full coverage; follow reaction on Twitter using #PanamaPapers; in the BBC News app, follow the tag "Panama Papers"
Watch Panorama on the BBC iPlayer (UK viewers only) or on the BBC World News channel on 9 April at 01:30 GMT (except in North America) and at 08:30 GMT, and on 10 April at 14:30 GMT and 20:30 GMT.