California Is Sinking, Central Valley Sees Major Damage, Billions In Repairs
TMR Editor's Note:
As if California doesn't have enough to deal with, now comes the sinking areas in the Central Valley and the San Joaquin Valley. The drought has certainly forced farmers to draw an unprecedented amount of water to irrigate the most productive farmland in the country.  A 4 to 5 year drought has put enormous stress on the state, especially on the farmland.
Years of aggressive fracking have not helped the situation, although Governor Jerry Brown would never let that be known.  He has created an extremely hospitable environment throughout the state for the fracking industry, despite the water-intensive operations right in the middle of the drought.
Decades of water supply mismanagement and serious neglect of the water infrastructure, after a severe 5 year drought and before a particularly powerful  El Nino, make for the Perfect Storm, both figuratively and literally.  Water extraction at the extremely high rate that California has conducted it for decades has weakened the land.  Given these various cofactors, there is only one outcome that can be expected—SUBSIDENCE.
Subsidence, or sinking of the land, will always occur in the wake of incessant water extraction just like it often results wherever long-running oil and gas drilling operations take place. When an historic drought is thrown into the mix, this confluence of circumstances is guaranteed to evolve into a predicament described by the following articles.
California is SINKING by two inches a month, Nasa reveals
Why is California sinking? (Hint: drought)
Damage from sinking land costing California billions
2 inches a month: California sinking faster than ever, infrastructure in danger
California Sinking Faster Than Thought, Aquifers Could Permanently Shrink
California Is Literally Sinking Into the Ground
California sinking ONE FOOT each year from groundwater depletion
Meanwhile the Golden State is also challenged by an unparalleled methane gas leak that threatens LA, the most populated metro area west of the Mississippi.
Massive methane leak forces relocation of 2,500 California families
~~~~~~~~~~~~~~~~~~~~~~~~~~~~~~~~~~~~~~~~~~~~~~~~~~~~~~~~~~~~~~~~~~~~
Infrastructure Damage From Sinking Land Could Cost California Billions
Engineering360 News Desk
Four years of drought and reliance on pumping of groundwater have made the land sink faster than ever up and down California's Central Valley, requiring repairs to infrastructure that experts say are costing billions of dollars. This land subsidence — more than one foot a year in some places — is not expected to stop anytime soon, experts say, nor will the repairs.
(Read "How Engineers Can Adapt Infrastructure Design for a Changing Climate.")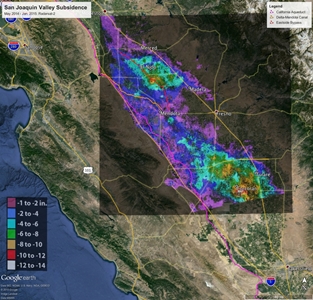 Total subsidence in California's San Joaquin Valley from May 3, 2014 to Jan. 22, 2015, as measured by Canada's Radarsat-2 satellite. Two large subsidence bowls are centered on Corcoran and south of El Nido. Image source: Canadian Space Agency/NASA/JPL-Caltech"It's shocking how a huge an area is affected, but how little you can tell with your eye," says James Borchers, a hydro-geologist, who studies subsidence and says careful monitoring is necessary to detect and address sinking before it can do major damage to costly infrastructure such as bridges and pipelines. He was quoted in an article by the Associated Press.
Land subsidence is largely the result of pumping water from the ground. As aquifers are depleted, the ground sags.
The most severe examples today are in San Joaquin Valley, where the U.S. Geological Survey in 1975 said half of the land is prone to sinking. USGS researchers later called it one of the "single largest alterations of the land surface attributed to humankind."
A sparse mountain snowpack in California's driest four-year span on record has forced farmers in the Central Valley, the nation's most productive agricultural region, to rely on groundwater to irrigate their crops. Drought has spawned a well-drilling boom with some tapping aquifers 3,000 feet down. California is facing a water crisis, and a strong El Nino isn't going to solve the problem, the AP reported. In wet years, groundwater provides about 40 percent of water used in California. But in times of drought, groundwater can amount to 65% of the state's water supply.
Decades of pumping have damaged thousands of well casings and buckled canal linings. To keep water flowing through low spots, irrigation districts raise the sides of sagging canals so they can increase the water level and maintain a gravitational flow. As a result, at least one bridge now sits below the waterline. Chris White, general manager of the Central California Irrigation District in Los Banos, said replacing it is expected to cost $2.5 million. Rebuilding another canal recently cost $4.5 million. Putting a grand total on damage from subsidence in California is tricky because irrigation districts don't often single out repairs required by subsidence from general upkeep, Borchers told the AP. He estimates long-term costs as being "probably in the billions."
Subsidence has been a problem for decades, and it's accelerating, the AP said. In 2014 near Corcoran, the land sank 13 inches in eight months, researchers at NASA's Jet Propulsion Laboratory found by comparing images collected over time from satellites and airplanes. Parts of the California Aqueduct, a canal that delivers water 400 miles to Southern California, also sank by nearly 13 inches, the NASA research shows. This has cost the state of California "tens of millions of dollars" in repairs to the aqueduct in the last 40 years, and officials expect to spend that much in the future, said Ted Thomas, a spokesman for the state's Department of Water Resources.
California became the last state in the West to regulate groundwater when Gov. Jerry Brown in 2014 signed legislation ending a policy that generally let property owners take as much as they wanted. Local agencies have until 2040 to put groundwater management plans into effect.
Farmers and irrigation districts are not the only ones taking note of sinking land. Spokesman Greg Snapper said Pacific Gas & Electric Co. has not sustained any broken natural gas pipelines from sinking land in the Central Valley, but it monitors the lines and in 2015 started using NASA's satellite research as part of that effort.
___
http://insights.globalspec.com/article/1914/infrastructure-damage-from-sinking-land-could-cost-california-billions